Get a softcopy of the brochure
here
or get a brochure at your nearest Watsons store.
My picks include
3@$15
Majorlica nail polishes
3@ $20
Revlon 3D extreme mascara, Nivea extra whitening innerbody repair milk, Majorlica customized eyeshadow, Rimmel lip colours, Himalaya Neem Skin Care and Karela
3@$50
Brands Essence of Chicken,Ocean Health Gingko supplement, Majorlica mascara, L'oreal Infallible Gold lip colour
Tata! ~*Bling Diva*~
Watsons beauty buffet is back!
The palette includes 3 eyeshadows and 2 matt lip colours.
Alot of thought went into the design of the palette. A gold flap protects the lip colours from any fallouts from the powder eyeshadow.
The case just ~*Blings*~ with a gold interior. The case clapse is pretty unique too. The claspe reminds me of oriental pouches. The whole palette looks like a classy evening clutch.Pretty!
You can get it at Best Buy World @ SGD85. The recommended retail price on the website is SGD100. I'm pretty sold on the packaging already!
Dior has a very diva-ish eye and lip makeup palette in pink and gold. GOLD! Lurve!
I bought the rouge in 33E which is one of their more popular colours @ SGD 29. I have no idea how much it retails for in SG, but I was simply in a "spending mood" that day.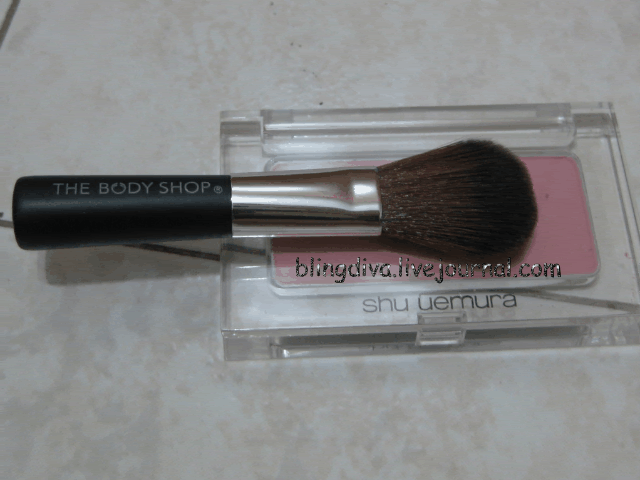 I was quite disappointed that no brush in included. Huh? Apparently their eyeshadows don't include brushes as well. That's umm... pretty troublesome isn't it? Luckily the Bodyshop travel sized brush set I bought included a blusher brush, and the size is a perfect fit.
The colour is very subtle. It doesn't have the shimmer like my favourite Shiseido PN range of blushers, but it does give off a very natural healthy glow. Not one of my favourite blushers though.
I heard that Shu Uemura is cheaper in HK. I've not owned any Shu products other than my eyelash curler, so I was keen to try out some of their much raved about blushes!
I got an eyeshadow quad (Gran De Eyes no. 14) for about SGD10 after discount. Great deal yes?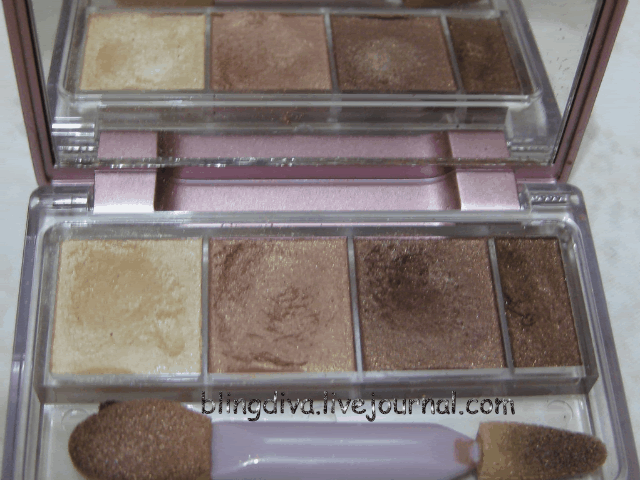 The quad is made in Japan and the texture was very creamy. The size was really compact, which makes it really convenient to bring around. The quality of the makeup tip provided was quite lousy tho, but given the price I'm not complaining much.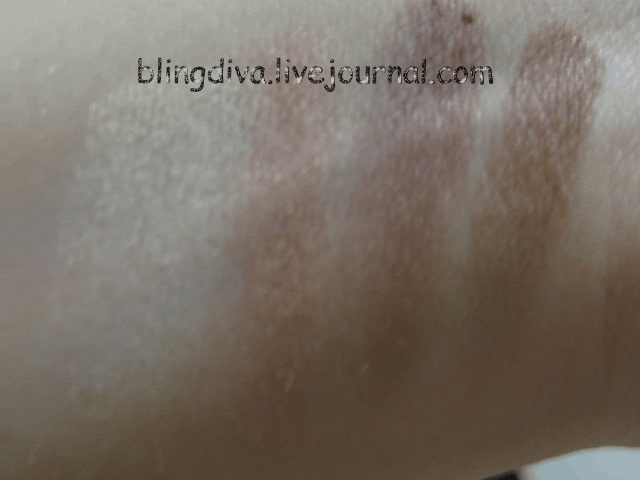 As seen from the swap above, the colour is not very pigmented, but it is very easy to work with. It is very suitable for light makeup at work. Touch up with the darker shades to go from day to night!
Watsons Hong Kong had a 50% sale on all Gransenbon cosmetics. It was nearing the end of the sale period when I was there, which explained why there was so few products left. Guess Gransenbon is pretty popular in HK!
Yep, you read right... not Korea, but HK. I've been using the products for 2 weeks now and am still very satisfied. Here's my loots!
White Plus Renew Eye serum and Renew Apple Zone Mask
I have really really bad dark eye circles, and am alway on the lookout for good eye creams. I bought the Laneige eye cream set which came with 4 eye masks.The texture of the eye cream is really luxurious. I see a little improvement in my dark eye circles. The shape of the eye masks are quite unique. Regular eye masks cover just the contours of your eyes, but the Laneige eye masks are pretty huge because it also covers the apples of your cheeks! Apparently, this is because after your eyes, your cheek apples is the next part of your face that people will take notice of. I've never really thought about paying special attention to this area, as regular masks would usually cover that. Howwever, after using the masks, I do feel that the apples of my cheeks were firmer, "higher" (well they did feel higher), and had a slight glow.
Essence and cream
The waterbank essence feels like a watery moisturizer. There's no toner or softener in this range. The essence is supposed to replace the softener/toner stage. The cream moisturer is not too thick. I'm not a big fan of the essence and cream though. I bought it as it came as a set with the sleeping pack, and I rarely say 'no' to a good bargain when I see one. Haha!
Water sleeping pack


This is the star of Laneige products. A MUST-BUY if you go to Korea. The texture was rich but not goey or creamy. It had more of a gel-like texture. It comes with a small spatula so you won't have to worry about contaminating the rest of the tub with your fingers. I wore this overnight and woke up with velvety skin! No oily residue or sticky feeling at all!
Strawberry Yogurt peeling gel


My skin is a little dull probably from daily use of makeup and sun block. The SA recommended that I use an exfoliating gel twice a week just before using mask so that the skin would be able to "absorb" the goodness better and to get rid of dead skin. I'm not really a fan of exfoliation (except during facial) as it sometimes feels like my skin is being "tortured" and I worry about wrinkles. This exfoliator worked like a charm without tugging at the skin. Simply massage it gently and "voila", all the dead skin just comes off with the dried gel. Skin feels clean but not dried out. It can get a little messy though, so I recommend getting some tissue ready to wipe off the dried gel if you don't want to be picking up pieces from the floor.
Gift set and eye makeup remover

I got a gift with purchase for the sleeping mask-essence-moisturizer set. It consists of a cute Laneige drawstring bag, miniature strawberry peeling gel, strawberry cream, watermark eye gel, foam cleanser, sleeping mask. I also got a full sized eye makeup remover in addition as the total purchase qualified me for membership redemption!
I'm not a big fan of the strawberry cream. It smells really nice and but I don't really like the texture as it feels a tad oily after application.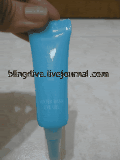 The eye gel did nothing for my dark eye circles, as it targets dryness rather than melanin production or bloog circulation. However a good moisturizer for the eye area is still important if you use concealer for the under-eye area on a daily basis.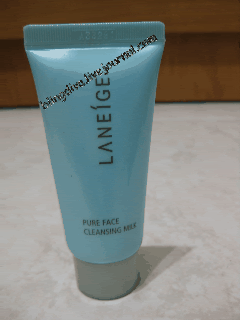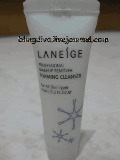 I wasn't really impressed with the foam cleanser or cleansing milk. The eye makeup remover tho, worked like a dream. Waterproof mascara came off effortlessly. It feels quite oily after that, but most of the eye makeup removers I've tried are oil-based anyway.
Overall verdict

I won't be throwing out my Shiseido skincare products anytime yet, but I am a major fan of the peeling gel and sleeping pack. Overall, pretty satisfied with my buy!
A few of my friends went to Korea a few months back and came back as Laneige converts. I've finally caught on to the Laneige bug after a recent work trip to .... HK!